No-one answered the door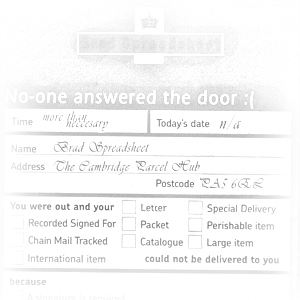 Brad's second album "No one answered the door" is was released on the 20th September 2013. We pick the story up after Brad has left the Cambridge Parcel Hub, and is plagued by the little red bits of card from the Post Office.
The album was launched to a packed house Romsey Labour Club on Mill Road, Cambridge on the same day. With the support of the Office Girls, it was a night to remember.
You can watch the video for the single "Chickenhead" here:
Chickenhead - Pictoral Karaoke version
This album is available on Bandcamp.